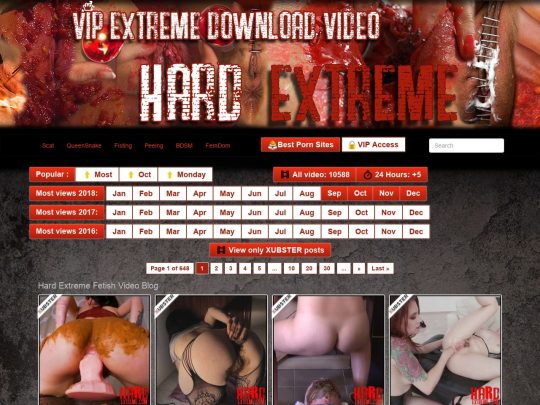 Click here to visit Hard-Extreme


Add to favorites
Hard-Extreme is a site for the people that are really into BDSM, Scat and other stuff that most people don't like. We at Snaggys however are open minded and thinks its up to the visitor what they want to see right?! As long as it's legal of course. But if you want to burn yourself with fire, fuck your slave with an strap-on or if you take a dump on your partners head while having sex I say go for it. Anyway, back on topic. When you go to the site you will see categories like Fisting, Peeing, Femdom, QueenSnake and some more already mentioned earlier. You can sort all content after most views, dates and more. Kind of cool setup. In total they have over 10.000 videos. That is a lot when talking about freaky fetish stuff like this site has.
One thing that is greatly unfortunate is that access to the full length videos cost money. If you are not ok with viewing the free 30 seconds clips you need to pay. I feel bad for the visitors that by accident clicks there way to this site since it really got some sick stuff (if you are curious to go to Hard-Extreme don't eat dinner first!) but for you perverts that really like it you have found heaven!
PROS: Extremely Graphic
Easy to sort and search
CONS: Only 30 seconds clips
No way to block out niches, you see them all
Hard-Extreme don't host the videos
© 2018 Snaggys.com - Reviews of The Best Porn Sites!