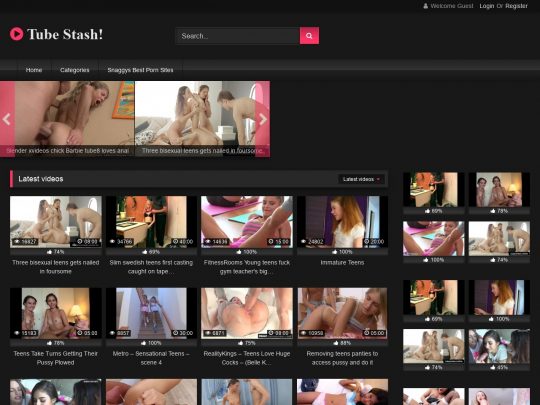 Click here to visit TubeStash


Add to favorites
TubeStash – All porn tube streams stashed in one place
TubeStash is one of the most simple tube sites I have visited in a long time. It's not like most other tube porn sites like RedTube and XTube to name two. It's very clean and has almost ZERO advertisement. That is sooo unusual. Enjoy it while it last compadres! (for many more years I hope). Anyway, the design is a little dark but nothing you can live with. It's easy to find the niches you are interested in. You can also use the search to find what ever you want. This site has tens of thousands of videos and will not redirect you anywhere when you click like so many other tube porn sites do. You don't need to create any account either to use the site but if you want to that option is available as well.
Some features on the site are that you can submit your own videos or why not create your own channel? Very nice indeed. When I do these reviews I always browse around just like you, a regular visitor would do, to see what this site is all about. I look for things that annoy me like broken video clips etc. I found none on this site. I'm not sure if the guys behind the site are that good or I just happen to stumble in when they just finished some website clean up of broken videos 🙂
Watching a video clip
When you go to watch a video on TubeStash you are presented with a really big screen. Large than average I would say. Besides the video you will see regular stuff like rating button, tags, description of the video, title etc. More video thumbs nicely presented to your right so you know that when this video is done you can easily click your self over to another hot movie 🙂
Summary: I like this site and I recommend you to visit it and spend few hours there.
PROS:
Almost no advertisement
Lots of free video clips
Easy to navigate and use
CONS:
Some advertisement
Dark theme


© 2018 Snaggys.com - Reviews of The Best Porn Sites!