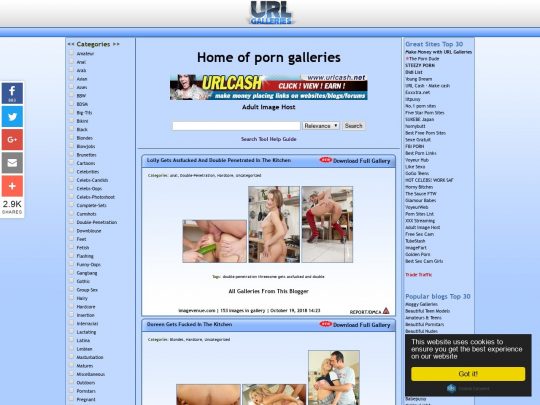 Click here to visit URLGalleries


Add to favorites
URLGalleries is a real veteran when it comes to porn galleries. The site has been around since 2006. URL Galleries has over 1.5 million galleries or over a 300 million links to images. Many thousands added daily. For easy finding all galleries are sorted into categories and tagged. The search has both easy and advanced features. Another great things URLGalleries has are that all galleries can be downloaded as a big zip archive file. How convenient is that? You browse around URL Galleries and find a gallery with some pretty girl and you really like her. Next thing you need to do is click the small icon that shows a download button. Click the download button and you get all the images downloaded quickly to your device. However it works best with some kind of desktop computer running Windows, Linux or any kind of Mac.
I do guess there are apps for tablets and mobiles that can handle zip files too. At the time of this review there isn't even any advertisement. Awesome site which is highly recommended.
Pros: No advertisement
Download galleries as ZIP
Very good search capabilities
Cons: Older design but it works fine
© 2018 Snaggys.com - Reviews of The Best Porn Sites!